Events and Festivals in Sri Lanka
Events and Festivals in Sri Lanka
Get an idea on the special events and festivals celebrated in Sri Lanka on each and every month.

January
Duruthu Perahera (Full Moon Poya Day): Commemorates Lord Buddha's first visit to Sri Lanka during the first year of his Enlightenment. There are many religious events organized in temples around Sri Lanka on this day.
Thai Pongal: Is a harvest festival celebrated by Hindu devotees all around Sri Lanka in January. During this time, houses are decorated in colourful kolam (a tricky drawing done on the floor), special pujas are held in Kovils, and a special meal called "Pongal" will be prepared on this occasion.
February
Independence Day: Celebrates the independence acquired in 1948 on 4th of February. There are many celebrations happening around the country on this special holiday.
Maha Sivarathri Festival: Is a festival celebrated by Hindu devotees in reverence of Lord Shiva. This festival is held on end of February or beginning of March. During this festival pujas are held in Kovils.
Navam Perahera: Is a Perahera organized by the Gangaramaya Temple in Colombo. This is a very colorful and vibrant pageant where dazzlingly dressed elephants and dancers parade the streets of Colombo.

April
Avurudu (Sinhala and Tamil New Year): Is a festival celebrated by both Sinhalese and Tamils in Sri Lanka. This celebrates the Sun God's passage from "Pisces" to "Aries" and is also a harvest thanksgiving celebration. Lots of games and activities are organized all around Sri Lanka during this period.
Easter Festival: Is a festival celebrated by the Catholic community mainly living in the Negombo and Kandana areas in Sri Lanka. This day celebrates the resurrection of Jesus Christ from the dead.
May
Vesak Poya (Full Moon Poya Day): Commemorates the birth, enlightenment and death of the Lord Buddha. During this time lots of religious activities are organized all around Sri Lanka and the streets are decorated with beautiful lanterns and pandals. (paper-macher structure with colored lights).
Check our blog article about Vesak festival
June
Poson Poya (Full Moon Poya Day): Commemorates the introduction of Buddhism to Sri Lanka by "Arahath Mahinda" who is the son of the great "King Ashoka". During this time lots of religious activities are organized all around Sri Lanka and the streets are decorated with beautiful lanterns and pandals. (paper-macher structure with colored lights).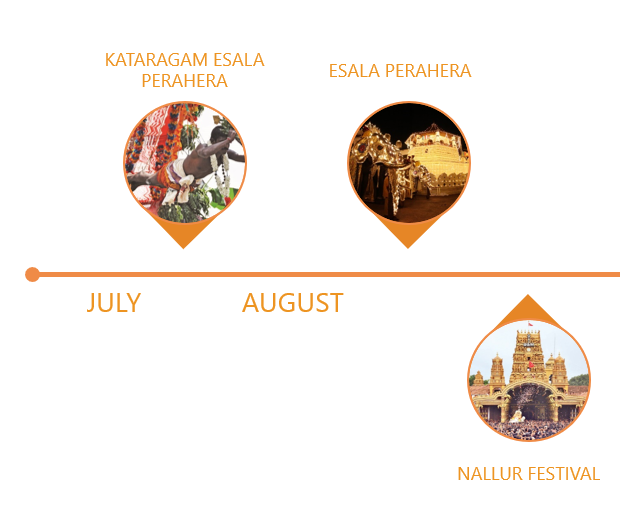 July
Kataragama Festival: Elephants in bright colors, fire dancers, drummers etc. perform at the festival. Devotees who have made vows show their devotion to the Gods of the Temple by rolling on hot sand, walking on coals after fasting and bathing in the Menik Ganga River and some pierce their flesh and swing from sharp hooks. The festival ends the next day with the water-cutting ceremony to ask for rain.
August
Esala Perahera: Is one of the most glamorous cultural pageants in the world. The Perahera is there for 10 consecutive nights. The first six nights are known as Kumbal Perahera and the other four nights as Randoli Perahera, with the final night having about 100 parading elephants adorned in elegant costumes. This event is organized to allow pilgrims to pay homage to the "Sacred Tooth Relic of Lord Buddha".
Madhu Festival and the Feast of St. Anne: Is a festival celebrated by Catholics. During this period thousands of pilgrims visit the Church of Our Lady of Madhu, located in Mannar, Northern Province.
Vel Festival: Is a religious celebration of Hindus, held in Colombo. This is the procession where the god of war carries his Vel (trident weapon) from the Muthuvinayagam Swami Kovil in Sea Street, Pettah to Kathiresan in Bambalapitiya or Wellawatta. The procession occurs during the day.
Nallur Festival: Hindu festival celebrated in the Nallur Kandaswamy temple in Jaffna, north part of the island for 25 days. Many celebrations take place to honor the God Murugan, the goddess Valli and Ivani.
Bellanwila Rajamaha Vihara Perahera: The procession lasts for three days and ends on the fourth day with the water-cutting ceremony and offering to the Gods. More than 50 elephants parade the streets with the temple elephant carrying the casket containing sacred relics. More than 100 dancers perform traditional dances, whip crackers and torch-bearers all add color to the pageant. It occurs in Dehiwala, Colombo.
September
Facets Exhibition: The International Gem & Jewellery Show held annually in Colombo since 1991 and has hundreds of local and foreign exhibitors showing their gem and jewellery products and a large number of influential trade visitors from around the world visiting. With overseas participation and wide exposure to product and company the exhibition is a popular event.
Sri Lankan Golf Classic: Is an annual golf tournament open to both foreign and local amateur lady and gentlemen golfers with valid handicaps or those approved by the Match Committee, held at the Victoria Golf and Country Resort, Kandy. Refreshments will be complimentary on the course on competition days only.

October
Navarathri Festival: A 9-night, 10-day Hindu festival of prayer and dance where 9 forms of the Goddess are worshipped. The 9 nights are dedicated to 3 main Hindu Goddesses– Durga, Lakshmi and Saraswati; the first 3 days dedicated to Durga, Goddess of power and energy, next 3 days dedicated to Lakshmi, Goddess of wealth and prosperity and the final 3 days to Goddess Saraswati, Goddess of music and spiritual knowledge.
November
Deepawali: Is the Hindu festival of light. The festival lasts for five days & the last day is Deepavali. On Deepavali night Hindus dress up in new clothes & light lamps and candles inside & outside their houses and make prayer offering to the goddess of wealth "Sri Lakshmi" who is welcomed to homes decorated with Kolam.
December
Sri Pada Pilgrimage (Adam's Peak): The pilgrimage of Adam's Peak, a national and unmissable event in Sri Lanka. In addition to being a popular tourist trekking for its panoramas of the surrounding area, it is Sri Lanka's largest religious pilgrimage. It starts on the full moon of December until the full moon of April.
Christmas and New Year: Is celebrated along with the rest of the world. During the Christmas and New Year period Colombo is decorated with beautiful lights and Christmas decorations. Musical shows and gala events are usually organized to celebrate the dawn of the New Year.
A TEAM OF TRAVEL ENTHUSIASTS AT YOUR SERVICE
FOR AN UNFORGETTABLE, AUTHENTIC TRIP


Over 7000 happy travelers