 Workation in Sri Lanka
Covid has many of us working remotely these days. Where is your office these days? The dining room? The living room? The garden? Your office really could be anywhere, so why not take advantage of this and go on a workation! Take your office to Sri Lanka where you can work, travel, and enjoy some new scenery. All you need is WiFi and your laptop. Embark on a covid safe, worry-free trip, with an itinerary tailored just for you.

This 21-day itinerary starts on the west coast of the island for a seaside holiday with a breathtaking view of the ocean. Go on a safari accompanied by a guide to admire wild animals in the natural habitats. Visit archaeological sites including UNESCO World Heritage Site, Sigiriya Rock; Polonnaruwa; and Kandy, the last royal capital of Sri Lanka. Discover the natural beauty of the country and its many natural resources, including waterfalls, rainforests, rice paddies, mountains, and tea plantations.

We will provide you with a portable Wi-Fi device so you can be sure you are always connected.

Inclusive / Exclusive
21 Days
BASED ON YOUR TRAVEL DATES & CUSTOMIZABLE
FROM
USD 1660
PER PERSON EXCLUDING INTERNATIONAL FLIGHTS
Included
Parking; highways and petrol; accommodation & meals for the chauffeur-guide
Fair-trade surprise gift on arrival
Government taxes
24/7 Colombo office assistance
Half board (Breakfast & dinner at hotels)
Sri Lankan cooking class incl. lunch
Overnight in hotels in double room
Private transfer in out airport
Half-Day Jeep Safari in Udawalawe National Park
Half-Day Jeep Safari to Kaudulla or Minneriya National Park
Walk in the village of Hasalaka to discover the two hidden waterfalls
4-hour Tuk Tuk ride through the tea fields - snack included
80GB Internet Box
Excluded
Visits and activities not mentioned in "included"
Tips and personal expenses
Travel insurance
Beverages during meals
International flights
Visa fees
PCR tests & Covid-19 People bank's insurance
Itinerary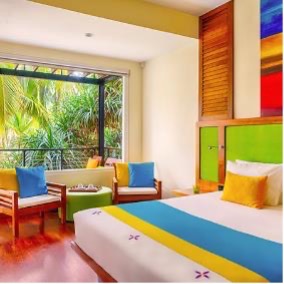 Ayubowan !
Bandaranaike Airport To Kalutara
---
Yay! Sri Lanka is open to travelers! Time to enjoy some tropical weather! Your driver will welcome you upon arrival at the international airport. We have to follow Sri Lanka's Covid-19 health guidelines and he will help you with that. Some of the things that are required are sanitizing your shoes before getting into the vehicle, cleaning your hands with hand sanitizing gel, wearing a mask, and having your temperature checked. Now you are ready to head to your seaside accommodations, your cozy home for the next 7 days.
Travel duration - 2.30 hours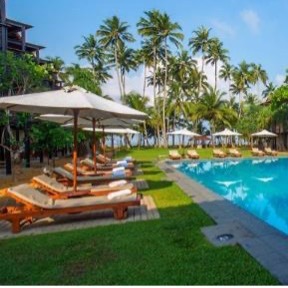 ---
The Mermaid Hotel & Club is located in Mahawaskaduwa fishing village near Kalutara. Get to know your new workation environment, the two outdoor swimming pools, the spa services, the game room and the beach. Enjoy your meals in the restaurant overlooking the Indian Ocean.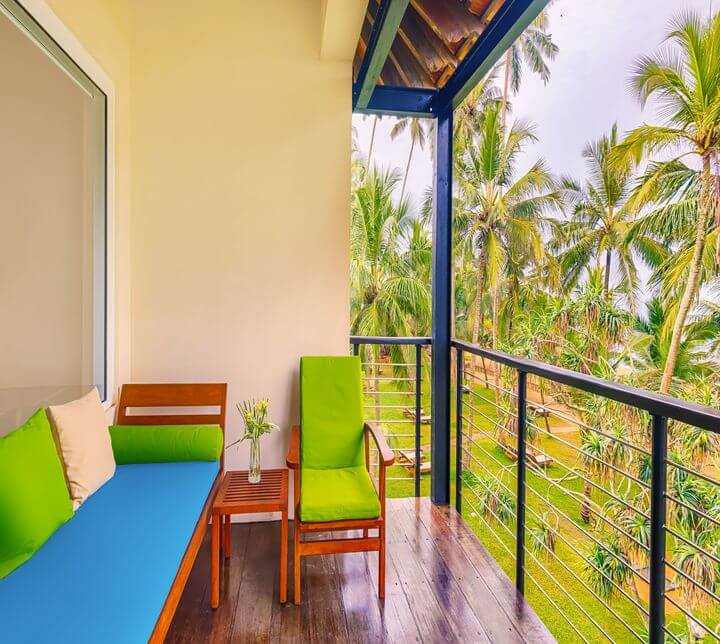 New day of vacation and work
---
Each room has a private terrace or balcony, ideal for working in peace and enjoying the sunshine. Sahana Spa offers soothing massages, yoga, and aerobics classes. You could also play a game of water polo or join the aqua aerobics class at the pool.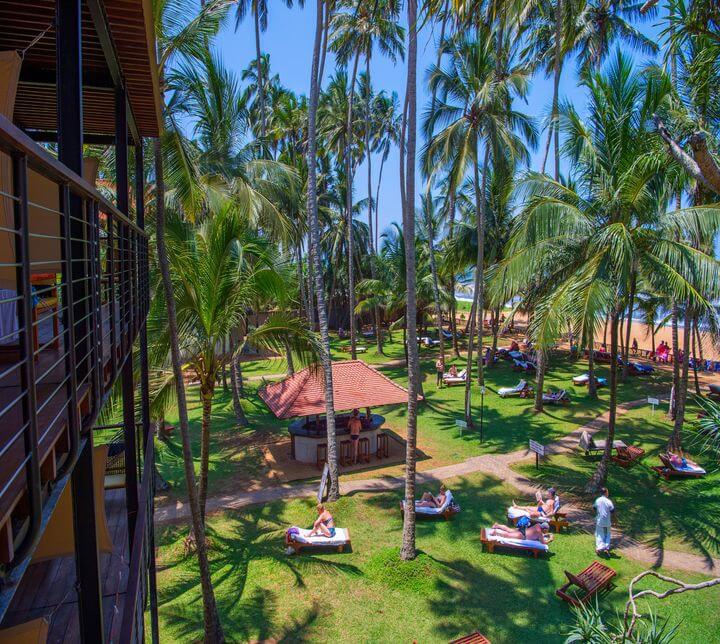 ---
Take advantage of this new day for your combination of relaxation and productivity. Sri Lanka is only three and a half hours ahead of Europe, so you can attend your work meetings.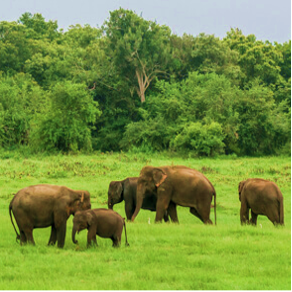 ---
We take you on an excursion to Udawalawe National Park this afternoon. Let's go on a jeep safari through this park known for its large elephant population and abundance of birds. You'll likely also see crocodiles, bears, sambars, and monitor lizards; maybe even a leopard if you are lucky!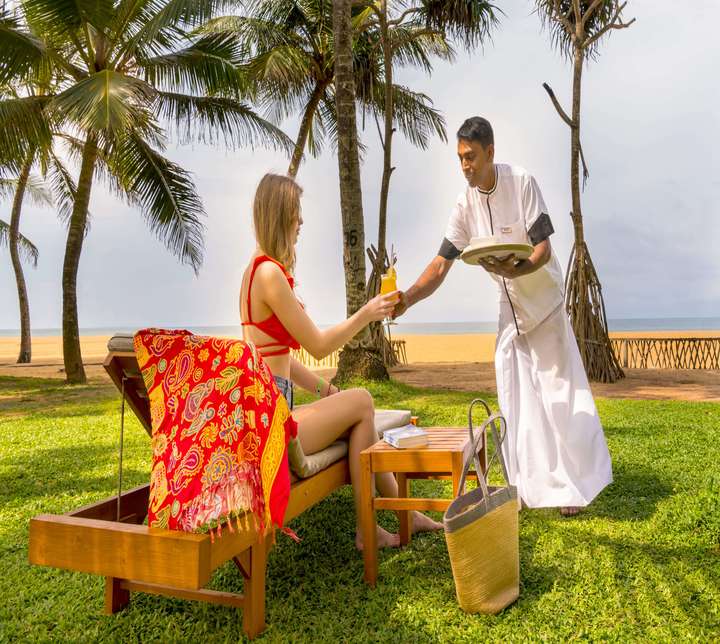 ---
Enjoy your new, somewhat original workspace! Take a break for a delicious, fresh fruit juice at the pool bar, and maybe play a little badminton, squash or table tennis session?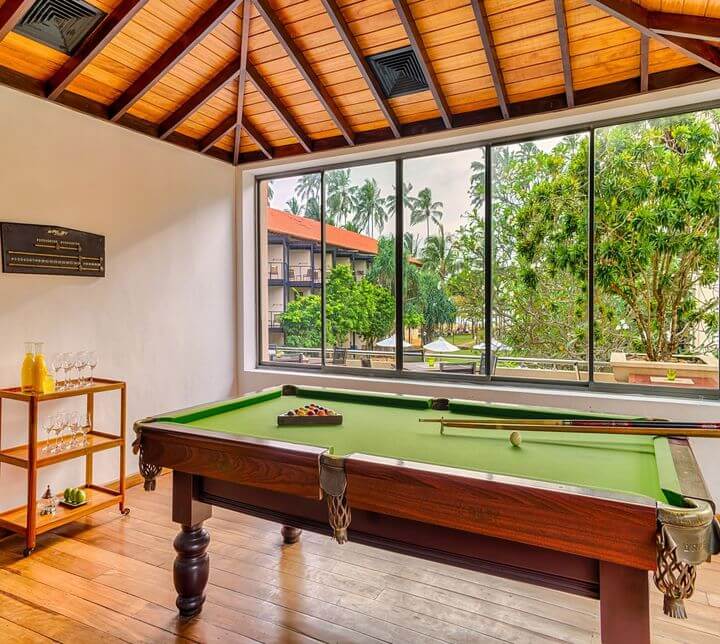 ---
Enjoy your last day on the west coast before your departure to Sigiriya tomorrow morning.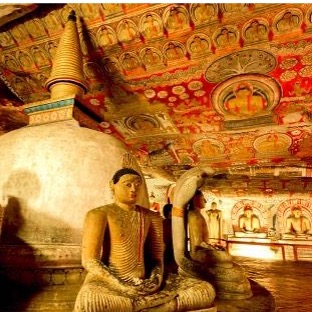 On the way to the cultural triangle
---
Today, you're heading to the famous Cultural Triangle. Pass beautiful landscapes of coconut palms and rice fields and stop at Ambepussa for a break and lunch. Once in Sigiriya, settle into your new hotel, your home base for the next 7 days.
Travel duration - 4.30 hours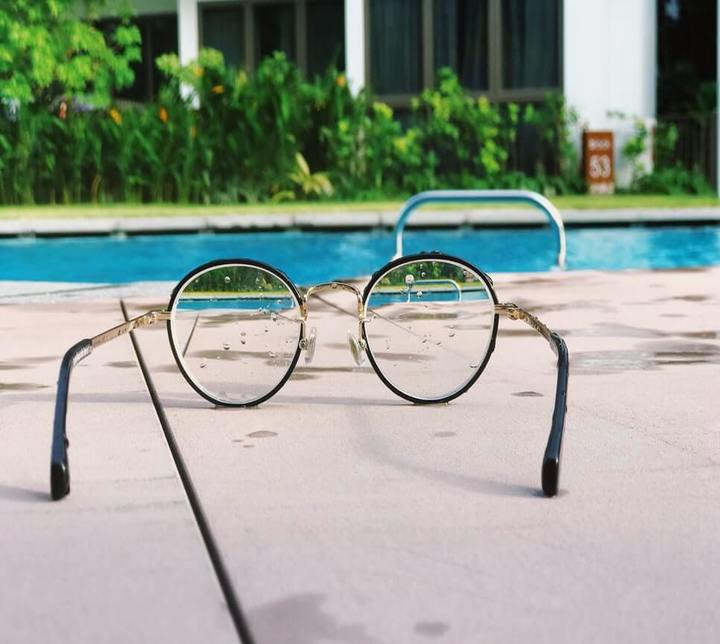 Relaxation day in Sigiriya
---
Find your focus working with the peaceful tropical surroundings, and take breaks cooking off in the large swimming pool surrounded by the beautiful, lush garden. Enjoy the hotel's quality service at the poolside, when you order room service, at the bar and in the restaurant.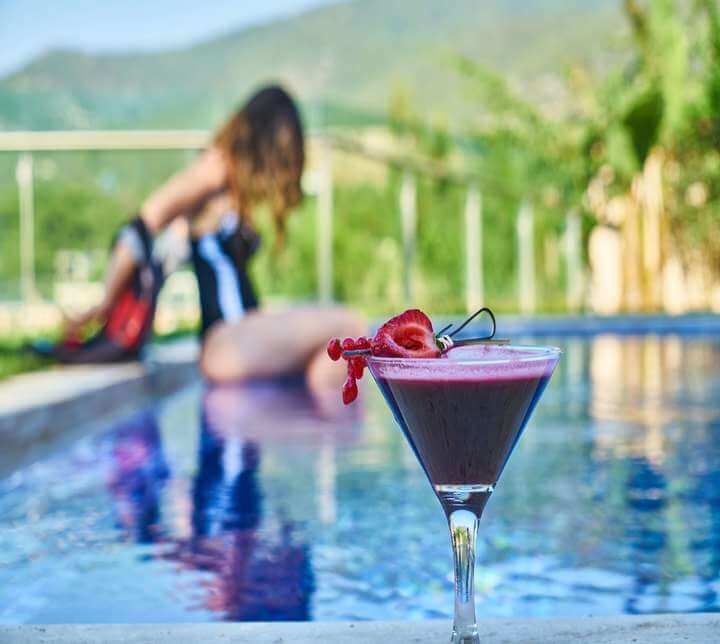 ---
What would you like to do after work today? You could take advantage of the spa services or relax by the pool.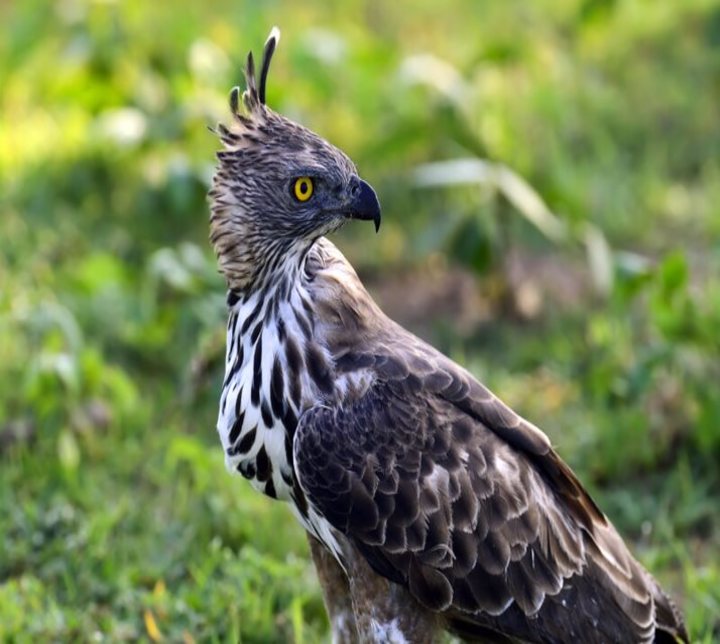 ---
After breakfast, go on a jeep safari at Kaudulla National Park, famous for its elephant population of around 400. Elephants travel in this region between Kaudulla Park and neighboring Minneriya Park. You may even get lucky and see one on the road! You will also find many other wild animals there like crocodiles, buffaloes, deer, monitor lizards, cormorants, pelicans and a multitude of other birds. The park boasts picture perfect landscapes too, with mountains rising on the horizon, behind grasslands and lakes.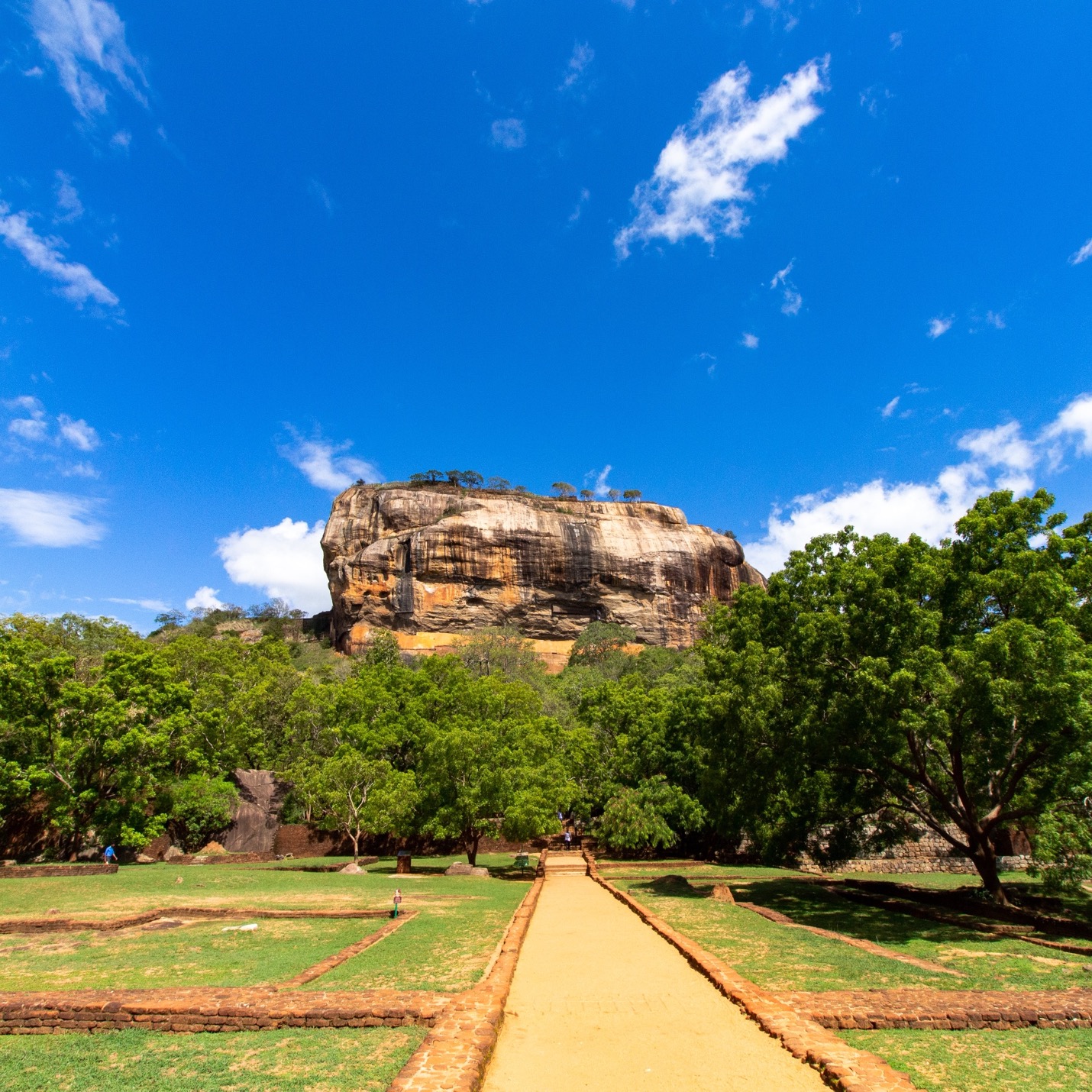 ---
Early in the morning, we invite you to visit the archaeological site of Sigiriya, and its 200 meter high "Lion Rock" overlooking the village. Your guide will show you the different parts of the site, from the sprawling gardens to the natural caves; from the ancient frescoes to the ruins of Kasyapa Palace at the top of the rock. This site owes its reputation to a megalomaniac king who built his residence there in the 10th century. Classified as a UNESCO world heritage site, it is the most visited site in Sri Lanka. We recommend taking this tour early in the morning, due to the heat and increased attendance later in the day.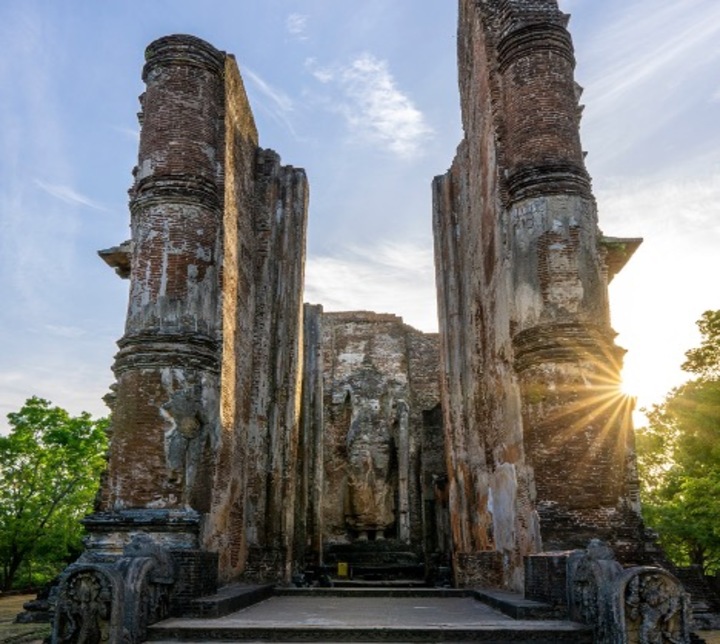 ---
Today, we recommend exploring the ancient city of Polonnaruwa, which was the royal capital of Sri Lanka during the 11th and 12th centuries. Visit the palace ruins, temples, and especially Kalu Gal Vihara, a set of 4 statues of Buddha carved in granite. The archaeological museum is also worth a visit and the beautiful Lake Parakrama Samudra is lovely for a stroll. If you enjoy riding a bike, Polonnaruwa is the perfect place to explore by bike. It's flat and there's a lot of ground to cover.
Travel duration - 2 hours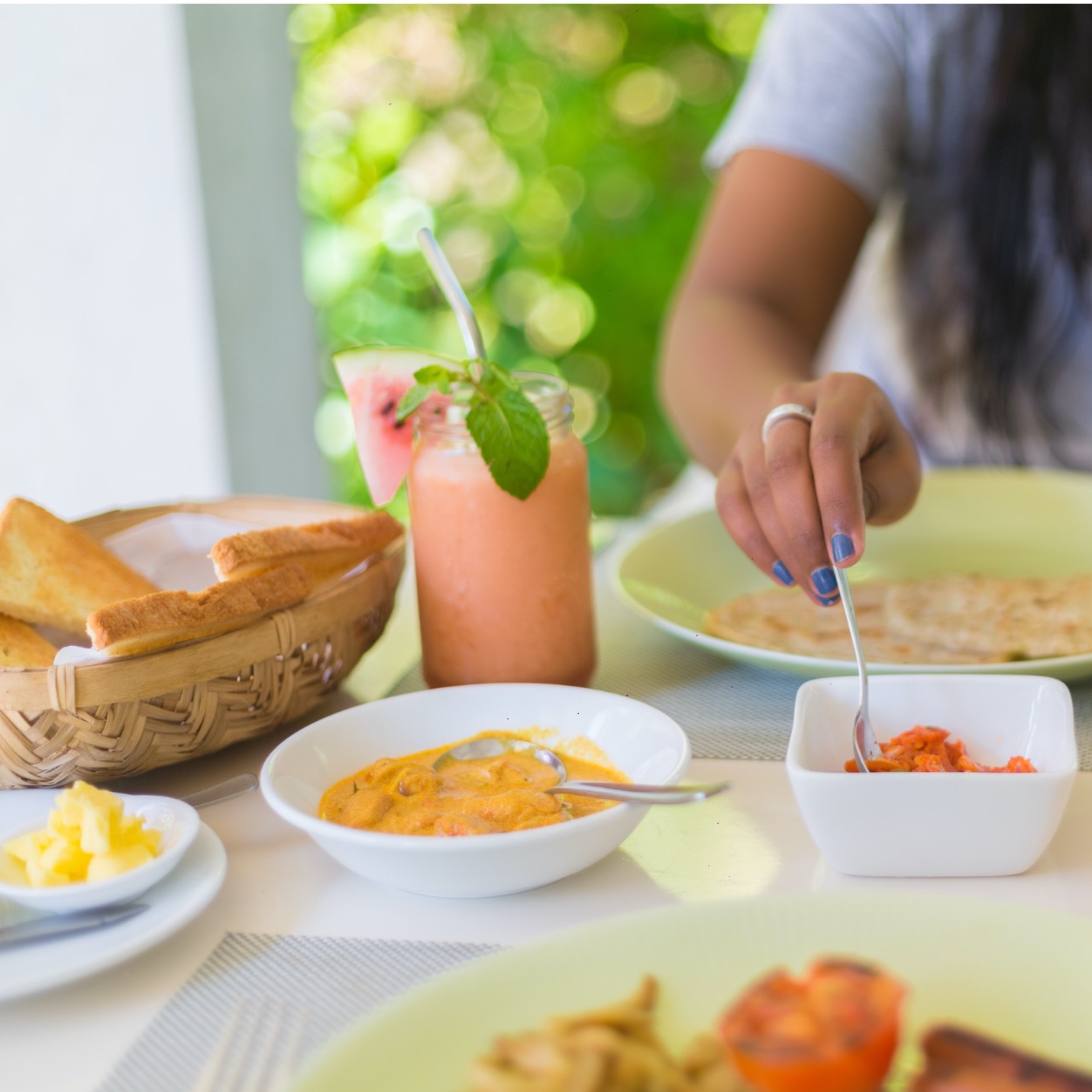 ---
Spend this beautiful day in Sigiriya at your leisure to focus on your work or to relax.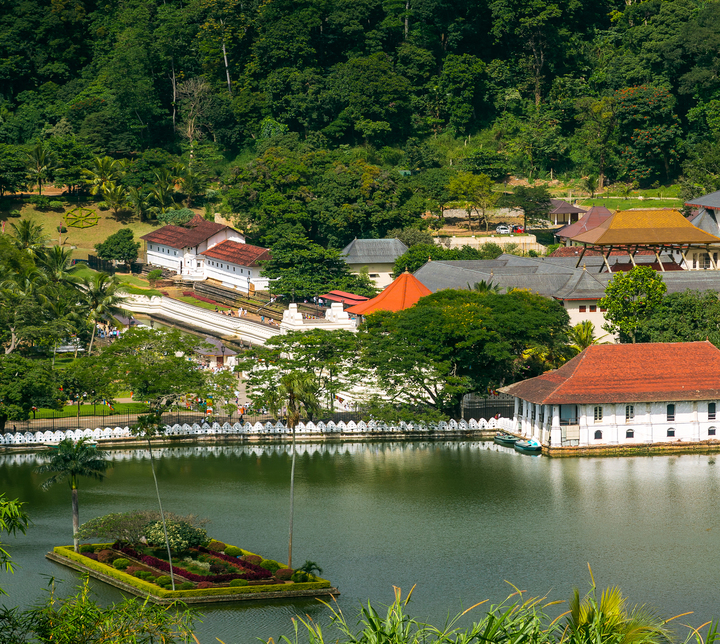 ---
You have completed your 14-days in a "secure travel bubble" and are now free to travel the country, stay in any accommodations you choose, and do all the activities you want.
Early in the morning, you could hike Pidurangala rock, located right next to "Lion Rock". Contemplate the ruins of an ancient monastery, statues of Buddha, caves, and enjoy an amazing view of Sigiriya. You could choose, instead, to discover Dambulla, a UNESCO World Heritage site, with Buddhist caves perched at the top of a hill.

Let's then head to Kandy, the last royal capital of the island. Explore the city center on foot, starting with a visit to the Buddhist Temple of the Tooth. This site is richly decorated and houses a relic of the tooth of Buddha. Take a walk around the lake, about 4km. Browse the very lively vegetable market, worth visiting for the diversity of the products and for the unique atmosphere. Settle down at your hotel in Kandy.
Travel duration - 3 hours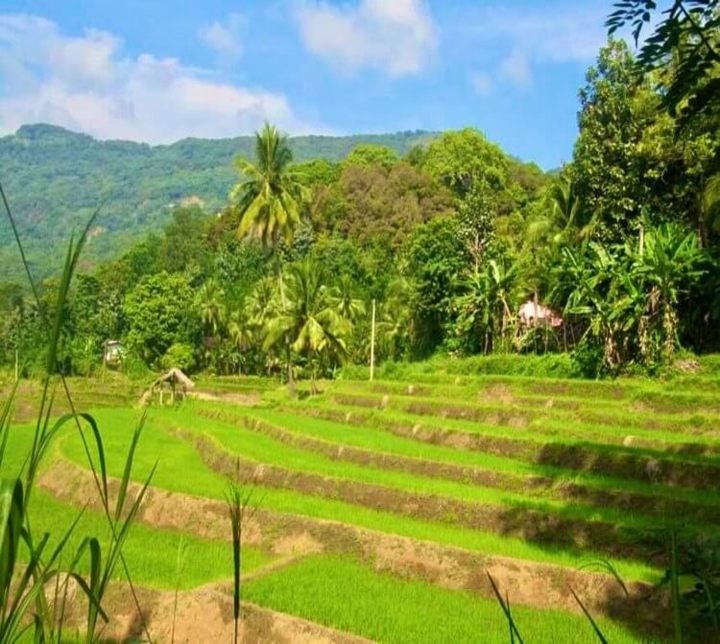 Mahiyangana, between the hills
---
In the morning we suggest visiting the Peradeniya botanical garden which flourishes on the banks of the Mahaweli river. It is one of the most famous botanical gardens in the world, with nearly 4,000 species of plants on more than 60 hectares of land.
Then, take the road to Mahiyanganaya, Buddha's first destination on his first trip to Sri Lanka. Apart from the traditional circuits, this small town links the central province and the east coast of the country. Located between mountains, rivers, forests and plains, it is a starting point for various hikes in the countryside, or for a safari in the Maduru Oya National Park located nearby.

Visit the main temple, Raja Maha Viharaya, an important pilgrimage site for Buddhists. For an extra special experience, consider attending attending a pooja or offering up flowers which you will find for sale at the entrance. Check-in to your hotel located by a charming lake.
Travel duration - 2.30 hours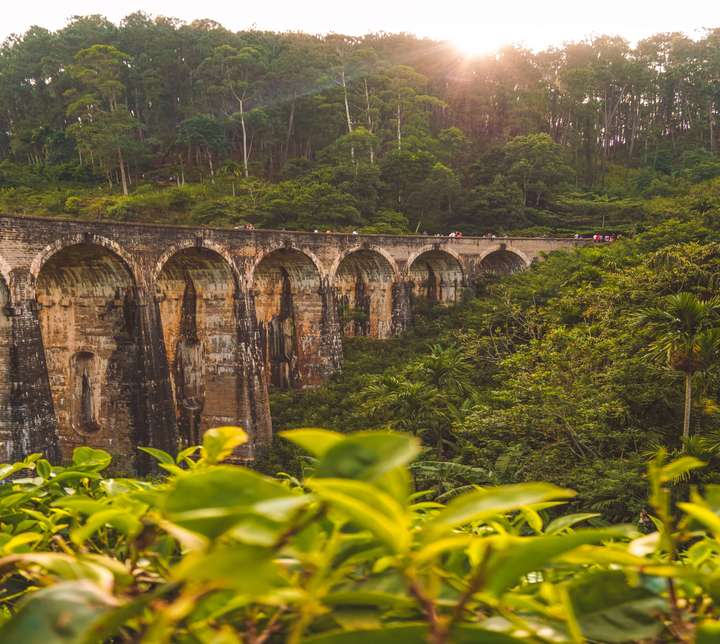 ---
In the morning, you go for a hike from Hasalaka village, 30 minutes from your accommodations. The hike starts in the rice plantations, then listen for the gentle sound of the river, and follow it to Rathna Ella's waterfalls. Stop on the way back to enjoy a Sri Lankan meal. Allow two hours for this walk.

Drive to Ella in the afternoon. Along the way, you could stop to visit a tea factory, for a wonderful opportunity to learn about the process of making this national brew. Then, go see the Nine Arch Bridge, a railway bridge that spans 91 meters at a height of 24 meters. The nine arches make it a very picturesque place, especially since it is surrounded by dense vegetation. Take a stroll through the heart of this lush nature.
Check in at your charming guest house with a magnificent view of Ravana Ella Waterfall.
Travel duration - 2.30 hours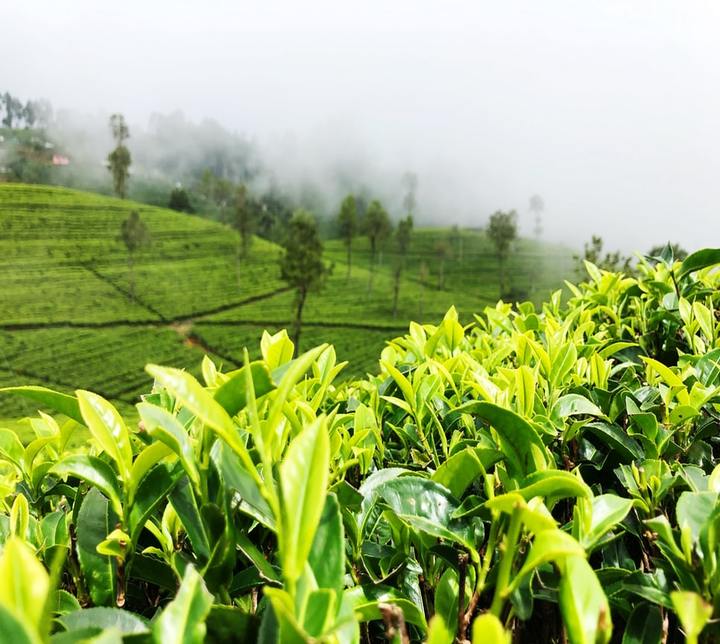 Riding through Sri Lanka's green gold
---
How about a tuk-tuk ride to the beautiful tea plantations? Take winding roads and pass through small villages, taking in views of the surrounding valleys and waterfalls. Continue to the top of the mountain near Lipton's Seat; where the master of tea, aka "green gold" loved to sit and contemplate his lands. Enjoy a steaming cup of tea in the small stall at the top. You can also visit a school along the way, as well as a tea factory.

Afterwards, enjoy a traditional cooking experience with a Sri Lankan family, and learn how to prepare an authentic Rice and Curry following the advice of the brilliant Fathima, a true master in the field. Enjoy your freshly cooked dinner.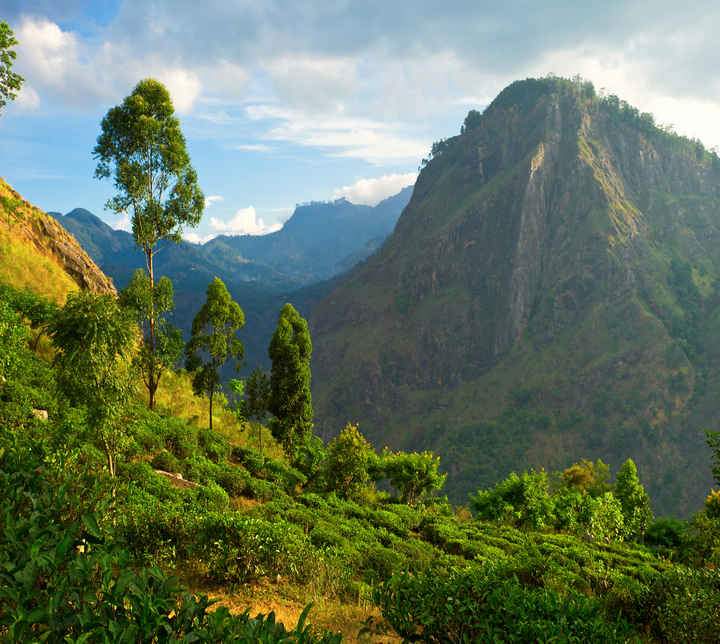 ---
It's a new day in Ella! This morning, we invite you to climb Little Adam's Peak. Start by walking through beautiful, green tea plantations, then join the ridgeline leading to this easily accessible summit that offers a particularly interesting panorama over the entire area. Plan for a good 2 hours on this hike if you want to take your time with photos and chats with passing tourists. Good shoes and a hat are recommended, as well as a water bottle to quench your thirst.
Afterwards, we will head to Ratnapura. On the way, you can admire the beautiful Bambarakanda waterfalls, the highest in the country. Arrive in Ratnapura and check-in to your hotel.
Travel duration - 3.30 hours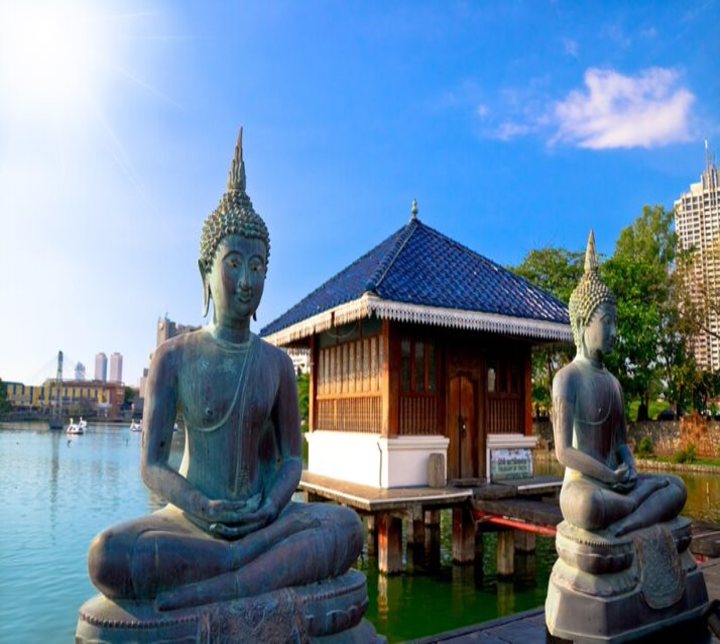 ---
Time to head to Colombo, the economic capital of Sri Lanka. Start your tour of this vibrant city with the Fort quarter and the Dutch Museum. Then, explore Pettah's bazaar and mosque; and the City Hall district's colonial buildings.
Take a walk around Beira Lake and visit Gangaramaya Buddhist temple. It's also an opportunity to shop for some souvenirs, have lunch in a modern restaurant, and even meet your local travel agent :) We recommend visiting Galle Face Green in the evening for a magnificent sunset, a very popular outing for families and lovers.
Settle in at your hotel.
Travel duration - 3 hours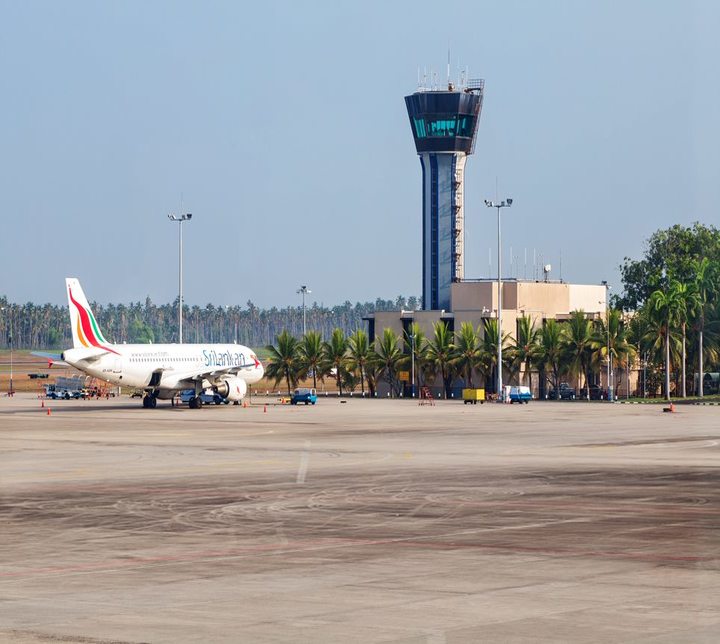 End of your workation trip
Colombo To Bandaranaike Airport
---
It's already the last day of your visit to our beautiful island paradise. We hope you will have fond memories of your workation stay with us in Sri Lanka. Your transfer to Colombo-Bandaranaike airport is organized for a smooth departure. We wish you a safe journey home!
Travel duration - 1.30 hours
Let us tailor-make your individual itinerary
Our specialists are happy to advise you and will help you plan your dream vacation
Sri Lanka Travel Expert
Sujeevan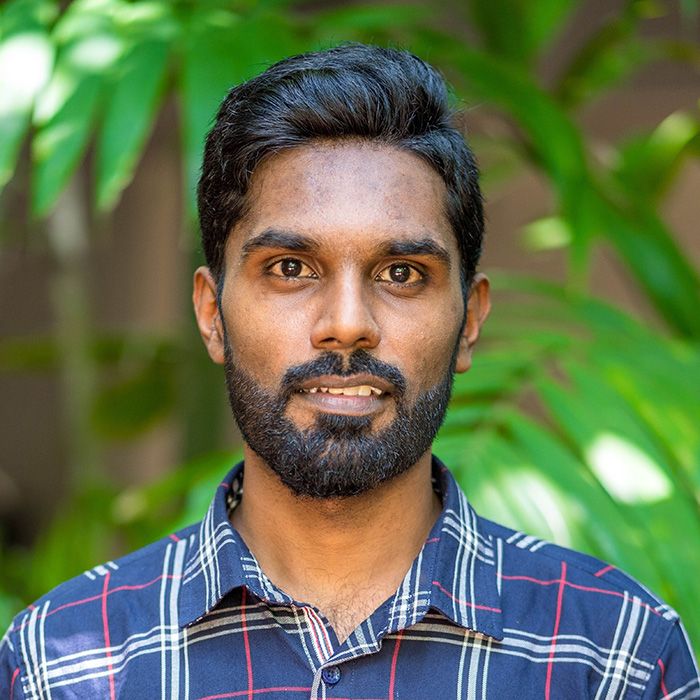 I am proud to be from Sri Lanka, a country rich in diversity, a country with many incredible historical sites, lush forests, beautiful mountains, idyllic beaches and majestic flora and fauna. I come from a small mountain town where you can admire this lush nature and breathtaking scenery. My region offers many places off-the-beaten-path for unique experiences. After spending a few years in France, I decided to return to my home country and join the tourism industry in 2012. My passion is to create authentic tours for my clients to explore the island and leave with unforgettable memories of the pearl of the Indian Ocean.
Our Values



Responsible and trustworthy


DURATION
21 Days
FROM
USD 1660
ENQUIRE