 Northern & Southern Vietnam, extended to Phu Quoc
From the north, center or south, visit the essentials of Vietnam. Start in the North where you will visit the traditional capital, Hanoi, The Terrestrial Halong Bay, the rice terrances of Sapa, and ending with a cruise on Halong Bay. Visit the historic cities of Hue and Hoi An in the Center, and bustling Ho Chi Minh City and the Mekong Delta in the South. End with a seaside holiday on the island of Phu Phoc off the coast of Cambodia, renowned for its beautiful beaches, lush vegetation and tranquility.
*Price per person based on 4 travelers
Inclusive / Exclusive
20 Days
BASED ON YOUR TRAVEL DATES & CUSTOMIZABLE
FROM
USD 2090
EXCLUDING INTERNATIONAL FLIGHTS AND LOCAL TAXES
Included
Government taxes
Accommodations and daily breakfast
Excursions indicated in private with English speaking guide
Local SIM card with data package included
Letter of invitation to obtain the visa upon arrival in Vietnam if necessary
Sharing transfer Hanoi Halong Hanoi and sharing boat activities in Halong Bay sharing Mekong cruise
Private transfer in out airport
Group activity at Halong Bay with guide
Excluded
Visa fee
Tips and personal expenses
Travel insurance
Beverages during meals
International flights
Entrances and guide services during free time
Supplement for special meals requests
Itinerary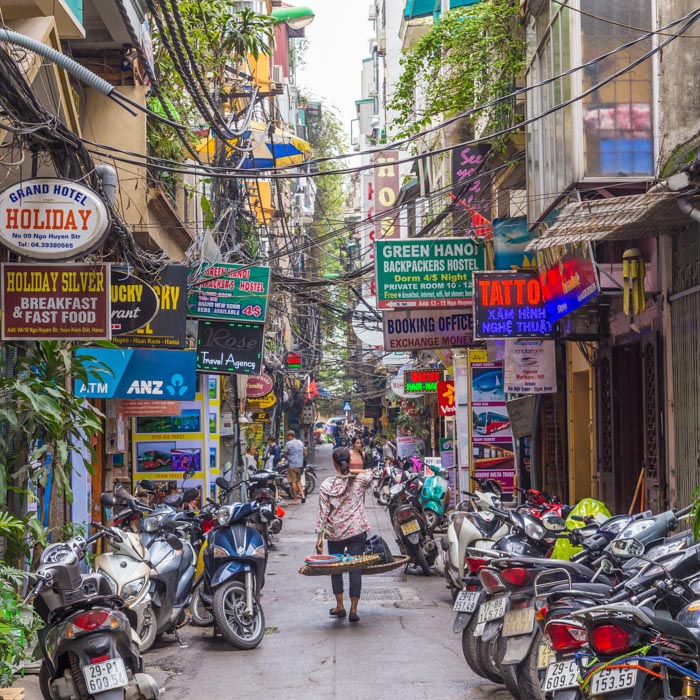 Welcome to Vietnam! Hoan nghênh!
Nội Bài International Airport To Hanoi
---
You will be greeted by your driver upon arrival at the airport of Hanoi. You will be driven to your hotel where you will meet one of our member. It would be the perfect occasion to exchange and eventually ask questions. After settling in at your accommodation, time depending, you can walk around in the streets of Hanoi, in order to realize the mix of traditions and modernity, well-preserved and emphasized in this city. Dinner at your leisure.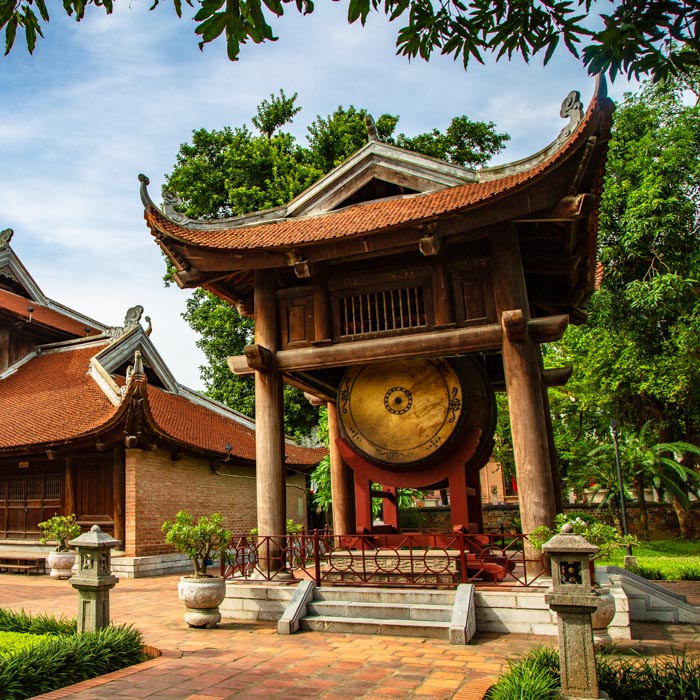 Visit of the capital of Vietnam
---
You are ready to commence your journey. Your chauffeur will pick you up from the hotel to explore the capital of Vietnam. Your first stop will be Ba Dinh Square, where the mausoleum of Ho Chi Minh is situated. Ho Chi Minh was a communist revolutionary leader who later became the Prime Minister and President to the nation. Your next stop will be Pagoda of Tran Quoc and the Temple of Literature. This is the very first university in the country.
Refresh yourself with lunch at a local restaurant.
After lunch, you will visit the magnificent ancient Citadel and Hoan Kiem Lake which is known to be the lake of the Replaced Sword. Next you will visit the temple of Ngoc Son followed by a ride in a Xiclo through the alleys of the Old Quarter which is the heart of the city. Crowds, motorcycles, food stalls and is unique to the Old Quarter and not seen anywhere else in the country. Welcome to Hanoi!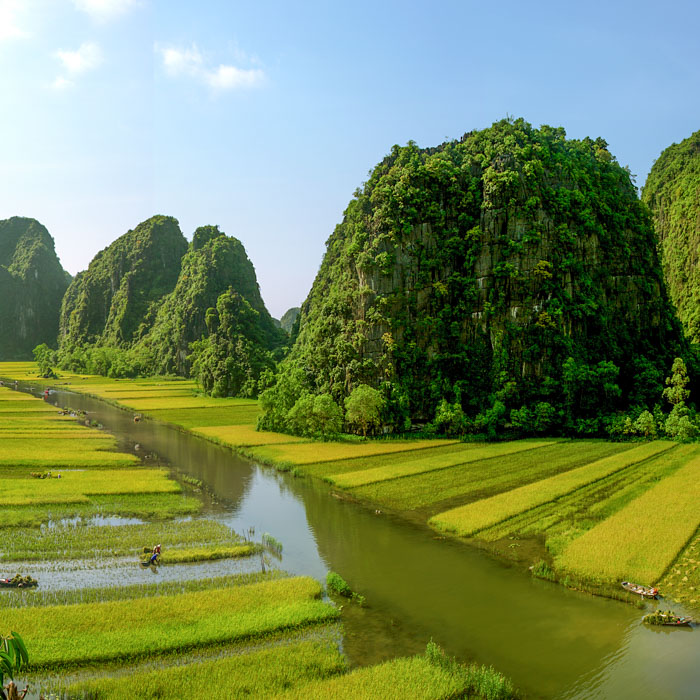 Visit of the terrestrial Halong Bay
---
Your driver will pick you up at the hotel in the early morning to head towards Ninh Binh. On the way, Hoa Lu will be your first stop. It used to be first royal capital of Vietnam under 3 dynasties between 968 - 1010.
Then after visiting the ancient citadel with its 2 sanctuaries, you will go to Tam Coc. Climb up Mua cave to admire a breathtaking panorama.
After a lunch break in a local restaurant, you will take a boat, or "sampán", to cross the rivers and rice paddies to the sacred caves of Tam Coc. Return to Hanoi. Drive to the station, to take your night train to Lao Cai-Sapa.
Travel duration - 2 hours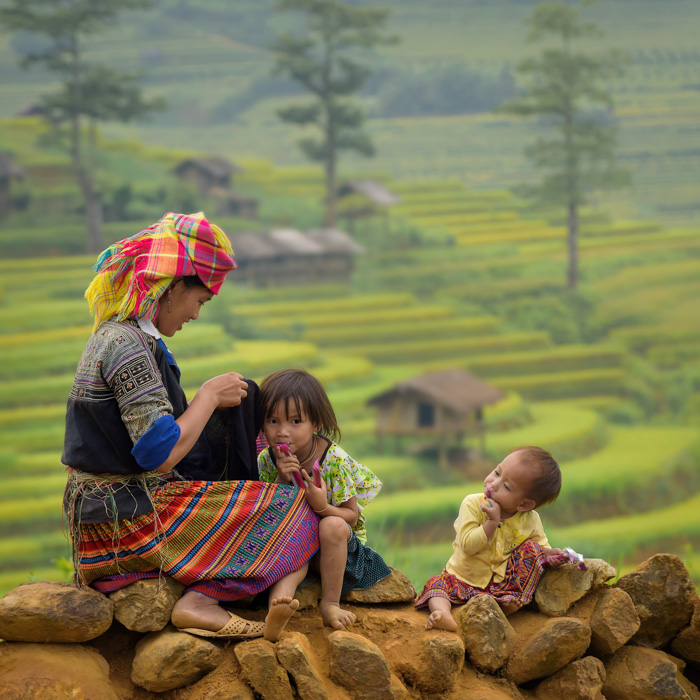 Meeting the northern ethnic groups
---
You will reach Lao Cai's train station by dawn, where you will be taken to a hotel room to rest and refresh yourself with breakfast and a shower before going for your first trek.
You will start a small trek first towards the south through the valley of Muong Hoa, crossing later on the village called Y Linh Ho, where the minority H'mong Negro live, then the village of Lao Chai, surrounded by beautiful paddy fields, and keep going until Ta Van, where the other minority Dzay live. This is where you share a lunch with the locals, in order to share and talk to get to know more about the country and their culture.
Enjoy the rest of the afternoon to understand them and learn from them before going back to Sapa for the night.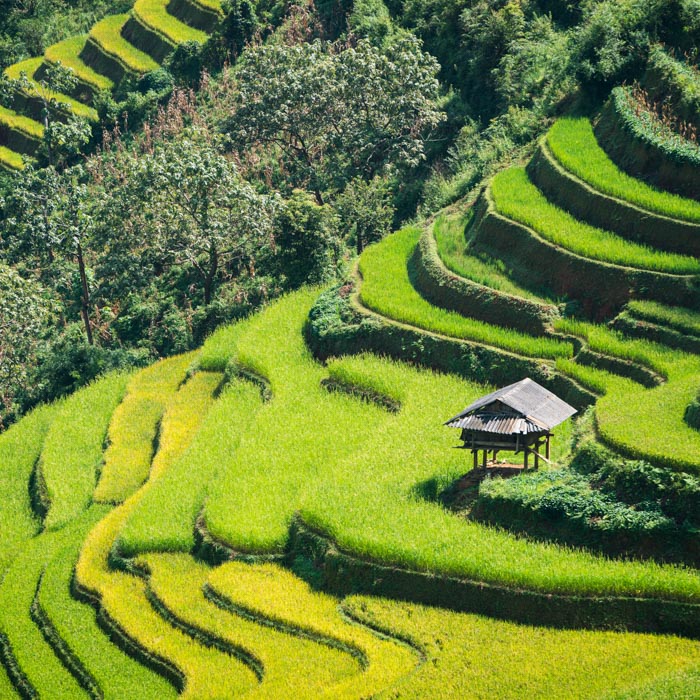 ---
After breakfast, your chauffeur will pick you up at the hotel to drive you to Suoi Thau, the starting point of your hike. This beautiful 9 km hike will take you through the village of Ma Tra and a forest, where you will stop to picnic.
After lunch, you will continue to the village of Ta Phin where you will have the opportunity to learn more about the local lifestyle of the ethnic minority Dzao. On the way back, enjoy the beautiful landscapes that surround you. You will return to Sapa and will have some free time before going to the station to take the night train to Hanoi. Dinner at your leisure.
Travel duration - 5 hours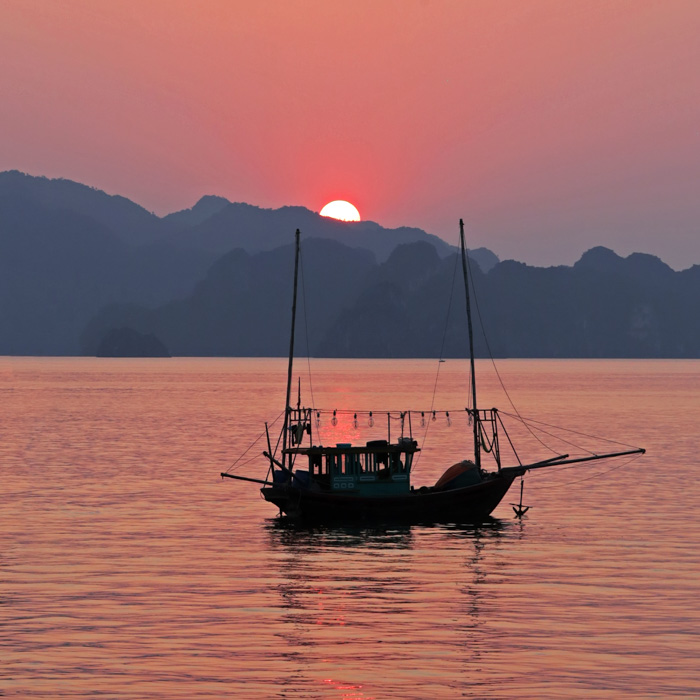 ---
You will reach Hanoi in the early morning, then be driven to your hotel in order to rest and have breakfast before leaving for Halong Bay.
Upon arrival, you will board for your 2-day and 1-night cruise. The boat heads to Halong Bay, a UNESCO World Heritage site. You will have lunch on board, while admiring the impressive landscape of hundreds of limestone islets. In the Luom Bo area, the boat will make a stop so you can explore the islets by kayak. You will have the opportunity to climb up an islet to admire the view and the setting sun.
Back on board, enjoy a moment of free time and admire the sunset from the upper deck. You can attend a session of Vietnamese cuisine. Your ship will continue its journey to Ho Dong Tien, where it will anchor for the night. Dinner and night on board.
Travel duration - 4 hours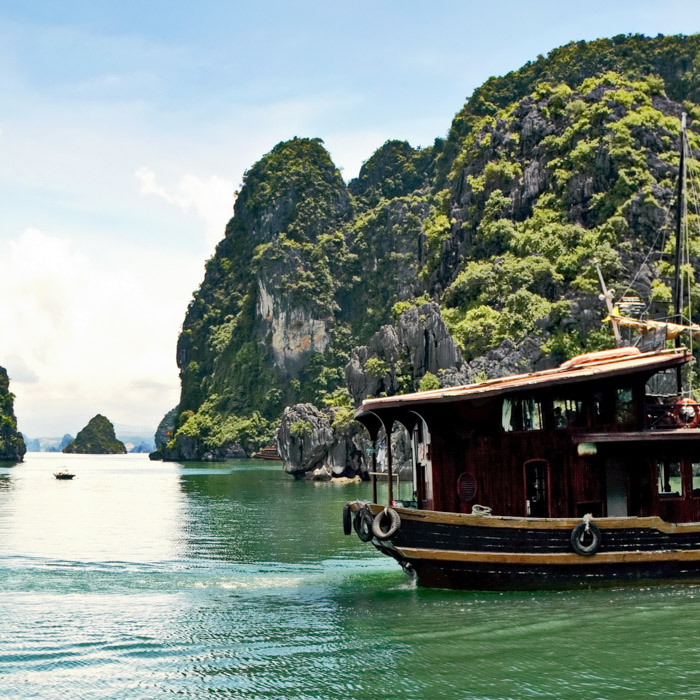 ---
We recommend waking up early to admire the sunrise from the upper deck. After having breakfast on board, visit Sung Sot cave, the biggest in the bay, known as "the cave of surprises". Enjoy the surrounding landscape as you sail back to port.
Upon arrival, your non-private car will bring you back to Hanoi. Dinner at your leisure.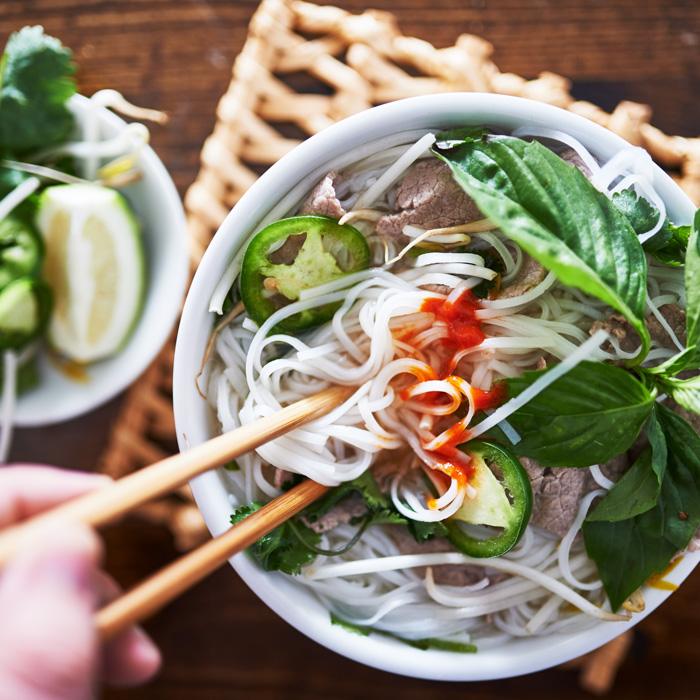 ---
Fly to Hue, located in the central region of Vietnam. Depending on your flight time, we recommend that you have a last taste of pho soup, a specialty of Hanoi. Dinner at your leisure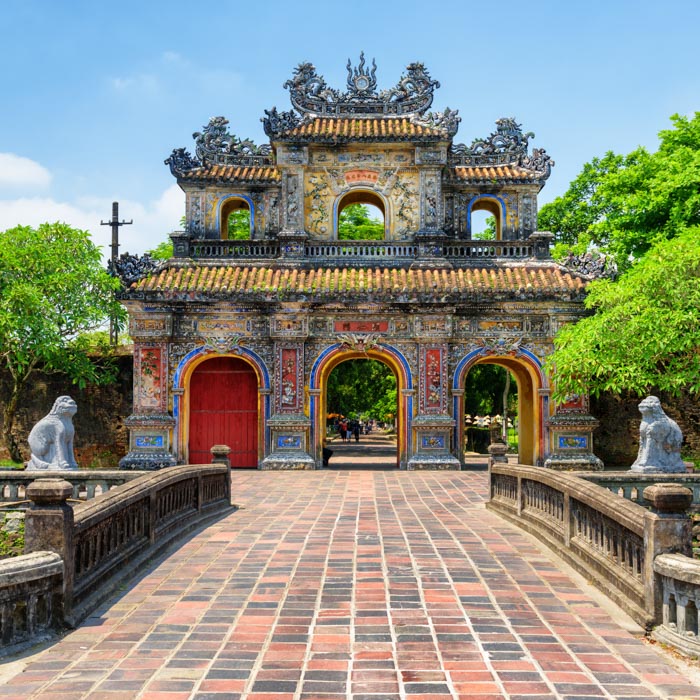 The former imperial city, Hué
---
The city of Hue, the former imperial Capital of Nguyen Dynasty (1802-1945) is a time machine which takes you back to ancient times in Vietnam.
Our chauffeur will pick you up at your hotel around 08:00 hrs to visit Tu Duc, Khai Dinh & Ming Mang Emperors' tombs. On the way, we will stop by villages well-known for making the best conical hats and incense in the entire country. Stop for lunch then visit the imperial Citadel of Hue and its purple forbidden city.
To conclude the day, we will visit the pagoda of Thien Mu located on river banks where we will take a boat ride to enjoy the sunset. Evening and dinner at your leisure. Overnight in Hue.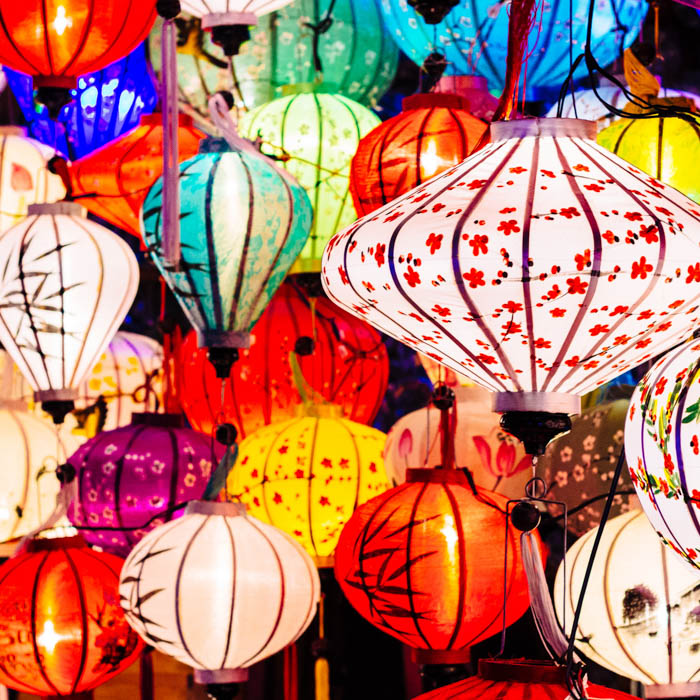 ---
After breakfast, you will be driven towards Hoi An, but first you will stop in Hai Van to see the Marble Mountains.
Enjoy your lunch in a local restaurant in Hoi An. After reaching the hotel, you will be able to explore the charming city of Hoi An at your leisure. Overnight in Hoi An. Dinner at your leisure.
Travel duration - 3 hours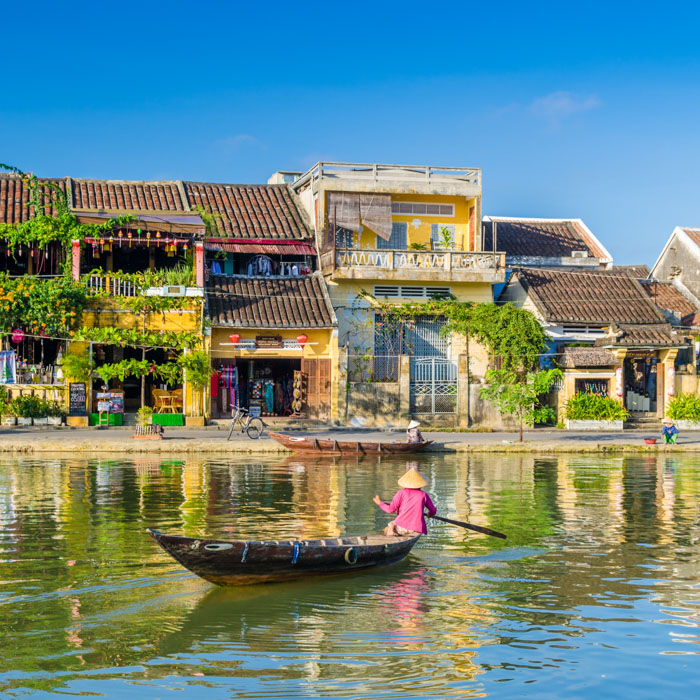 ---
Enjoy your day in Hoi An at your leisure. You can wander around the old town, an exceptionally well preserved example of a city that was once a trading port in Southeast Asia. You could also go to the beach nearby and relax. Overnight in Hoi An.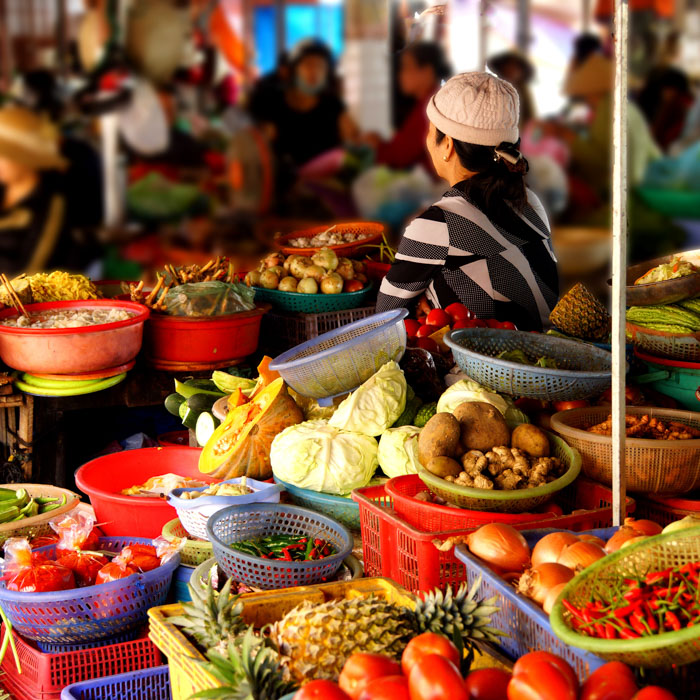 ---
Today you will fly to Ho Chi Minh, in the south of Vietnam. Early in the morning, depending on flight time, we recommend visiting the central market of Hoi An, very typical. Dinner in Ho Chi Minh at your leisure.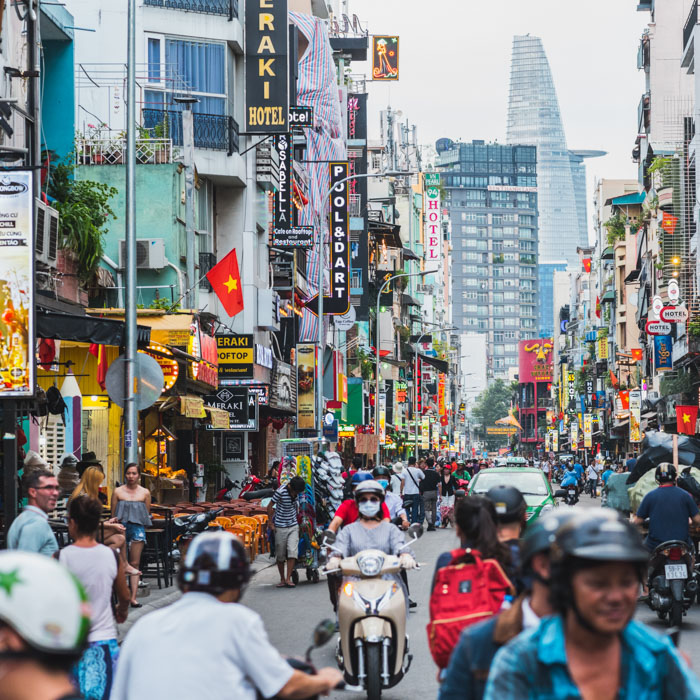 ---
In the morning you will head to China Town and visit the Binh Tay Market, one of the iconic markets of Ho Chi Minh before continuing to the temple of Ba Thien Hau, a Taoist temple, built by the city's Chinese traders over 150 years ago. Continue the visit to the Museum of Remnants of War, which will help you better understand the history of the country, the Indochina War and the Vietnam War.
After lunch, visit the Reunification Palace, then Saigon Notre-Dame Cathedral, the historic Central Post and a traditional embroidery workshop. You will finish the trip by visiting Ben Thanh Market. Dinner at your leisure.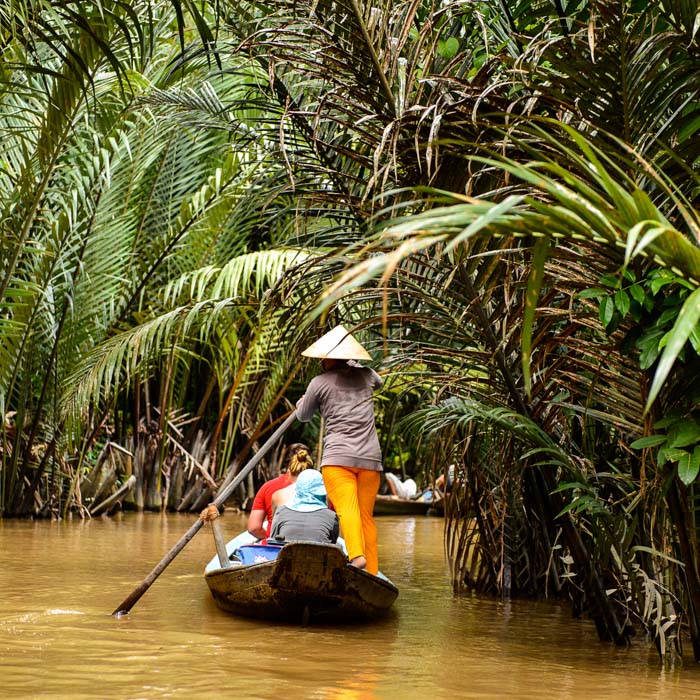 Mekong Delta
Ho Chi Minh city To Can Tho
---
After breakfast, take the road to the Mekong delta. Upon arrival, you will board a boat to explore the waters of Southeast Asia's largest river and discover the daily lives of the fishermen who live there. Return to the dock and leave for a short bike ride, before stopping for lunch in ancient Ba Kiet house.
After lunch, you will continue your excursion to the island of Tan Phong, where you will attend a show of traditional Vietnamese music and visit the island's gardens and cultures. You will take a small boat across the Tien River to Vinh Long. You will find your driver to continue to Can Tho. Dinner at your leisure.
Travel duration - 5 hours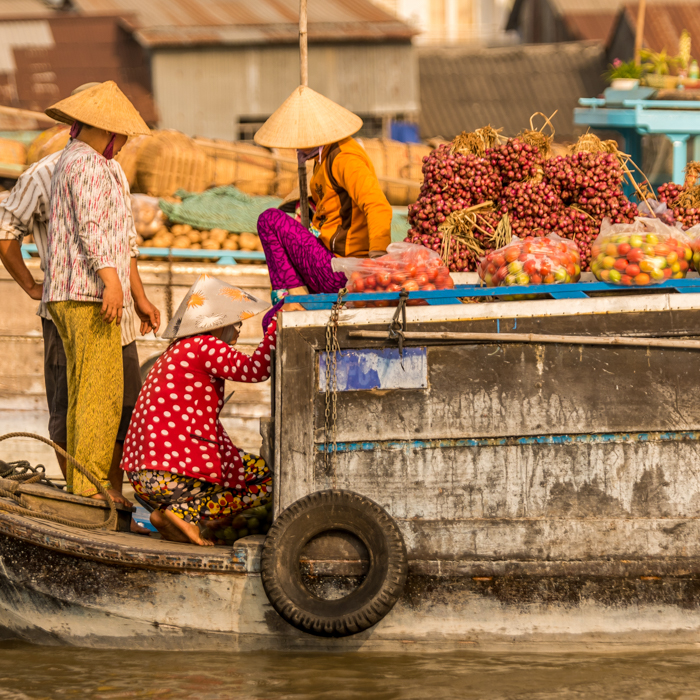 The floating market of Cai Rang
Can Tho To Ho Chi Minh city
---
Start this day at dawn with a boat trip to the Mekong's largest tributary, the Bassac River, where you will visit the Cai Rang floating market, the largest and most active in the entire Mekong Delta. Return to dock to visit Vietnamese noodle and vermicelli factory. You will have the opportunity to meet a Vietnamese family who will invite you to share local experiences.
Your stay in the Mekong Delta ends here. Return to Ho Chi Minh. Along the way, you will visit ancient Binh Thuy house, which appears in the list of architectural sites of national importance. Dinner at your leisure.
Travel duration - 5 hours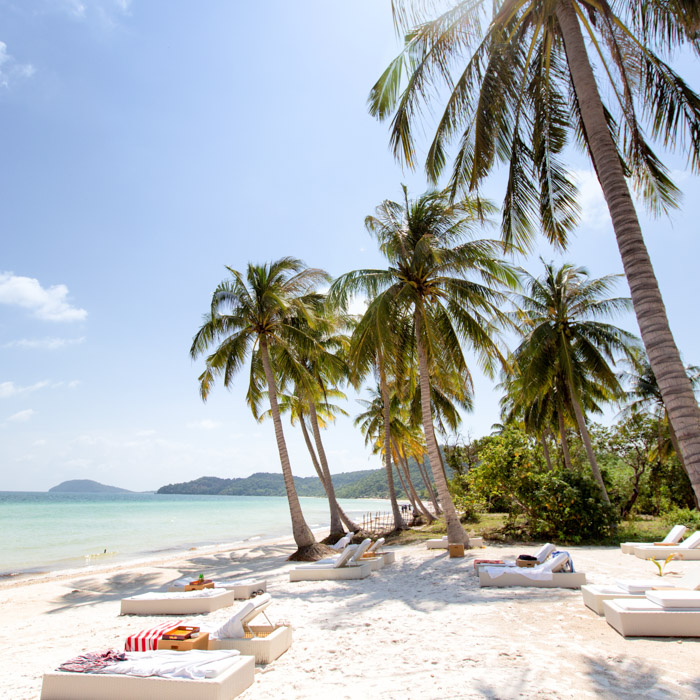 Arrival on Phu Quoc island
Ho Chi Minh city To Phu Quoc
---
Today you will fly to Phu Quoc, Vietnamese island off the coast of Cambodia, in the Gulf of Thailand. Dinner at your leisure.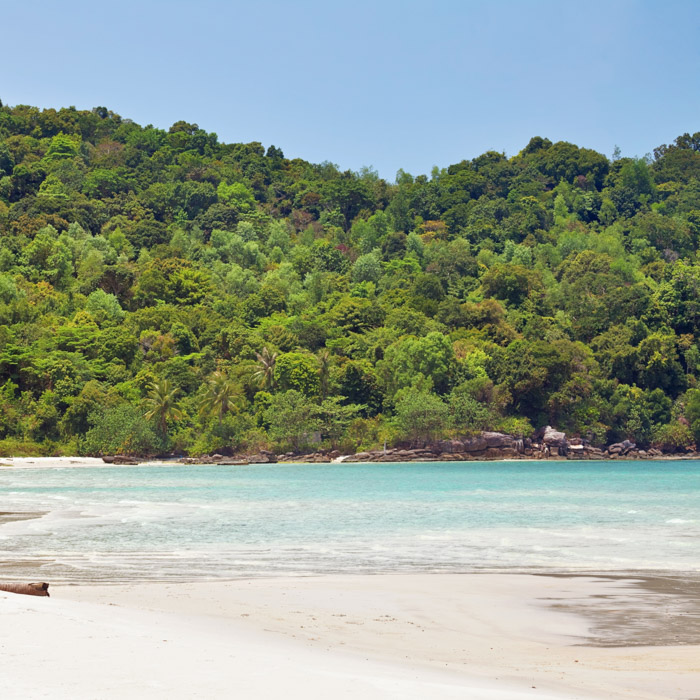 Day at your leisure in Phu Quoc
---
Enjoy your seaside stay and rest after this intense trip. However, know that a multitude of activities are possible on the island of Phu Quoc, such as walking in Phu Quoc National Park, swimming, visiting temples and pagodas and pearl or pepper farm, visiting the remains of Phu Quoc prison…
We recommend the Phu Quoc night market where you can enjoy fresh seafood, local specialties, and buy souvenirs. Dinner at your leisure.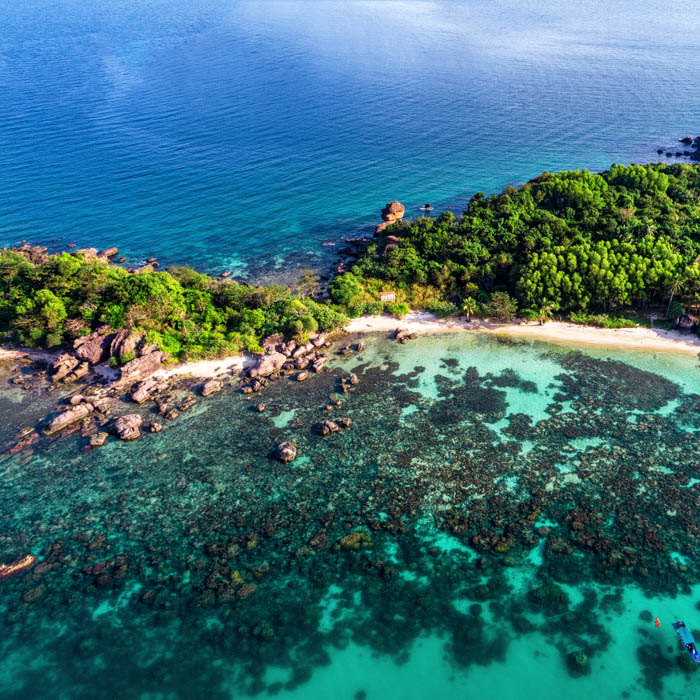 Day at your leisure in Phu Quoc
---
The island of Phu Quoc offers nice snorkeling and scuba diving spots, ideal for beginners and amateurs because most of the sites are not deep. The best period is usually from November to April when the sea is calm.
We recommend watching the sunset at Dinh Cau Temple on Long Beach or Ong Lang Beach. And don't forget to enjoy fresh seafood! Dinner at your leisure.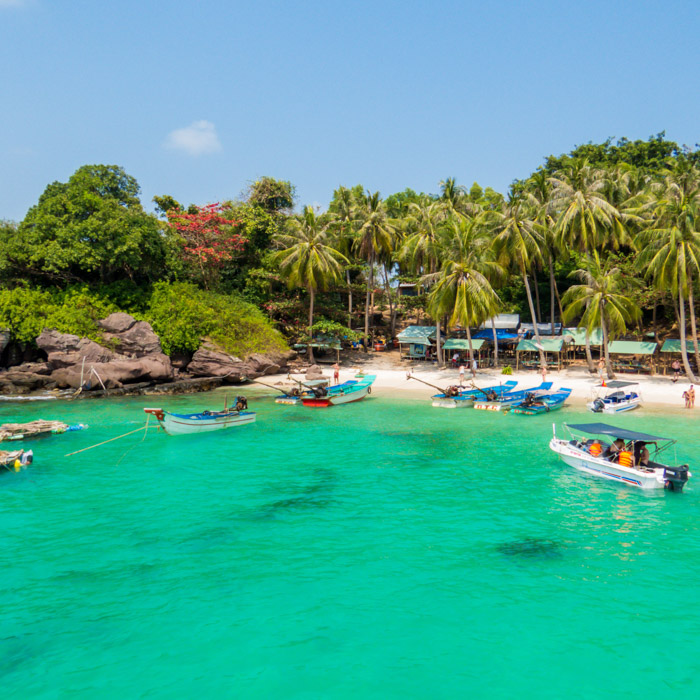 Back to Ho Chi Minh
Phu Quoc To Ho Chi Minh city
---
Today you will fly to Ho Chi Minh. Depending on the departure time, you can enjoy a last swim. Dinner at your leisure.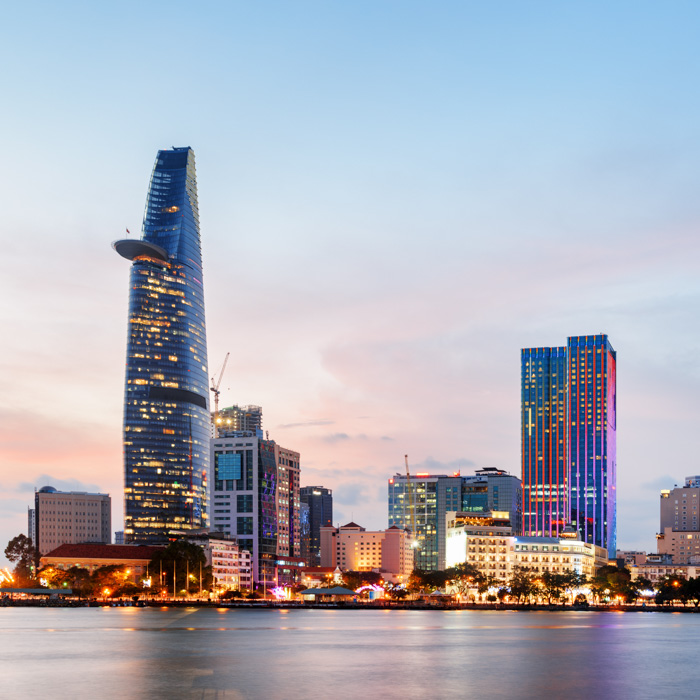 Goodbye Vietnam! Hen gap lai!
---
As today marks the last day of your vacation in Vietnam. It's also an opportunity to stock up on souvenirs before heading back home, as we bid you goodbye and drop you off at the airport we wish you have a safe flight back.
Let us tailor-make your individual itinerary
Our specialists are happy to advise you and will help you plan your dream vacation
Vietnam Travel Expert
Trang
Trang had the opportunity to immerse herself in the French culture and perfect her French language skills during a very enriching year in France. Back in Hanoi, the beautiful capital of Vietnam, she enjoys very much exploring her hometown in order to show it to travelers. Creating itineraries to help you discover and have a memorable experience in Vietnam is her mission.
Our Values



Responsible and trustworthy


DURATION
20 Days
FROM
USD 2090
ENQUIRE