Covid-19 Information
Covid-19 Information
Informative letter from Catherine, Mai Globe Travels' Director
Dear travelers,
I hope you and your family are safe and well during these difficult times. Tourism and travel have pretty much been put on hold by the Covid-19 pandemic, but places are gradually beginning to open up and we can start exploring our beautiful globe again. I am so excited! We've been working behind the scenes and are ready to help you plan your holiday.
Sri Lanka is now open to tourists following Covid-19 health and safety protocols. We are happy to say that Mai Globe Travels has been certified by the Sri Lanka Tourist Board as a "Safe and Secure" travel agency allowed to operate in these special times. Let us do the work for you!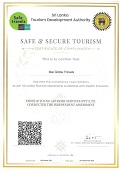 The Maldives is also open for a blissful escape. Let us help you organize your dream stay on a sunny island.
The borders of Vietnam are still closed and they do not have a precise opening date. In the meantime, check out our site, start exploring options and let us help you plan, so you are ready when their borders do open.
Travel is becoming possible again. Reach out to us for ideas on where to go and how to do it safely.
Thank you for your support and loyalty,
Catherine
SITUATION PER COUNTRY

(updated on 12/04/2021)
Covid-19 situation in Sri Lanka
Sri Lanka opened its border and published new travel rules starting on January 21, 2021. Check the new rules and regulations or contact us by email for more details.
Sri Lanka's lockdown was lifted on May 26 and life is slowly coming to a new normal. People are back to work, though working for home is encouraged when possible. Kids are back to school, with some classes in school and some classes online. Wearing a mask is strongly recommended in town, and is compulsory in stores, malls, restaurants, and offices. Temperatures are checked at many indoor venues, like restaurants and malls, and hand washing is required.
Reported cases: 95 131

Recovered: 91 631

Deaths: 598
Covid-19 situation in Vietnam
Vietnam still has its borders closed to travelers as they prioritize controlling the coronavirus. The government has been very successful at controlling the spread and keeping the number of Covid cases down. They've done so well that Vietnam only recently had their first few cases. Masks, hand washing and body temperatures checks are required and the people are very compliant.
As of now, the pandemic is under control in Vietnam. The country reports very few cases and the authorities remain watchful.
Reported cases

: 2 693

Recovered

: 2 429

Deaths

: 35
Covid-19 situation in the Maldives
The Maldives opened its border and lifted travel restrictions starting on July 15, 2020. A confirmed booking in a tourist establishment registered with the Ministry of Tourism, prior to travelling to the Maldives is mandatory. A negative PCR test report is mandatory for all tourists arriving from September 10 onwards. The test has to be conducted within a maximum of 72h prior to departure to the Maldives.
Reported cases

: 25 617

Recovered

: 22 551

Deaths

: 67
Other countries
Please consult and check the following link to see the real-time situation in other destinations.
https://www.gov.uk/foreign-travel-advice
https://www.who.int/emergencies/diseases/novel-coronavirus-2019/events-as-they-happen
https://travel.state.gov/content/travel/en/traveladvisories/ea/covid-19-information.html
A TEAM OF TRAVEL ENTHUSIASTS AT YOUR SERVICE
FOR AN UNFORGETTABLE, AUTHENTIC TRIP


Over 6000 happy travelers